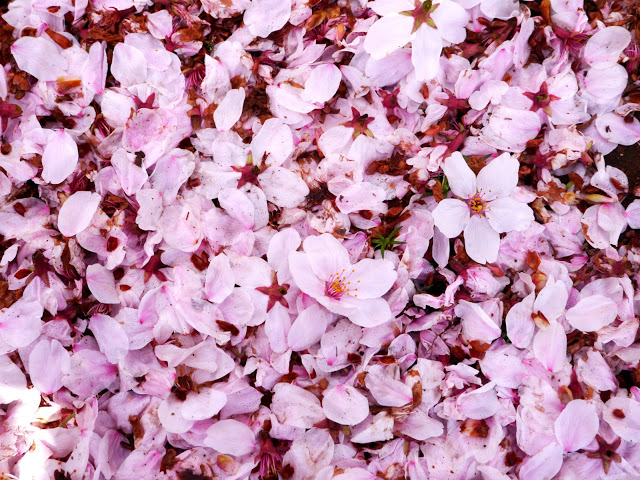 This year's cherry blossoms bloomed a few days earlier than average due to warm temperature. They were beautiful but it was pity that it had been rainy and cold for many days at the timing of their bloom and perfect weather for Hanami party was quite a few. Also, one of the best spots, Dankazura street on the way to Tsurugaoka hachimangu shrine was under construction and all the trees were gone at this moment. Here are some of the highlights in Kamakura.

Komyo-ji temple in Zaimokuza near Kamejikan in full bloom.
Komyo-ji temple from the main hall.

A Lotus pond in Komyo-ji temple.
Komyo-ji temple from the mountain behind. You would see wild mountain cherry blossoms in the mountains far away, as they make pale white spots in the green.
Chosho-ji temple in Zaimokuza near Kamejikan.
Statue of Nichiren, the founder of Nichiren sect at Chosho-ji temple.

Petals of cherry blossoms fell off earlier than other places at Myohonji temple
but another pink blossoms, Alonia was in bloom.

The big gate of Kencho-ji temple.

Cherry petals falling from the trees like snow by winds.
On the way to Hanzobo, at the end of the property of Kencho-ji temple.

Entrance gate of Hase-temple with a big lantern.

Budda's foot filled with cherry petals at Hase temple
Garden of Hase temple is carefully maintained and one can enjoy good varieties of flowers all through the year.
Let's hope we could enjoy more Hanami party next year.
Text by MASA