Hidden tea house at Jomyoji temple in Kamakura
On a sunny and chilly morning of the end of Autumn, I decided to go for a short trekking to enjoy Autumn leaves via old trail of pilgrims leading to Hokokuji temple. Maple trees were at its best in bright colors of yellow or red along the trail. After walking half an hour of going up and down a hill, I got to Hokokuji temple and the garden was as beautiful as always. Because the Zen temple is well known for the beautiful bamboo garden and it was the best season for maple trees and ginkgo trees, there ware full of visitors even before 11 o'clock and I lost my interests in going inside.
Then, I came up with an idea of visiting another temple which I had never visited before. The name of the temple is Jomyoji and it is only 3 minutes walk from Hokokuji temple across the Nameri river but less touristy. Jomyoji temple was established in 1188, and converted into Zen temple in 13th century. It has been classified as one of the top 5 zen temples in Kamakura.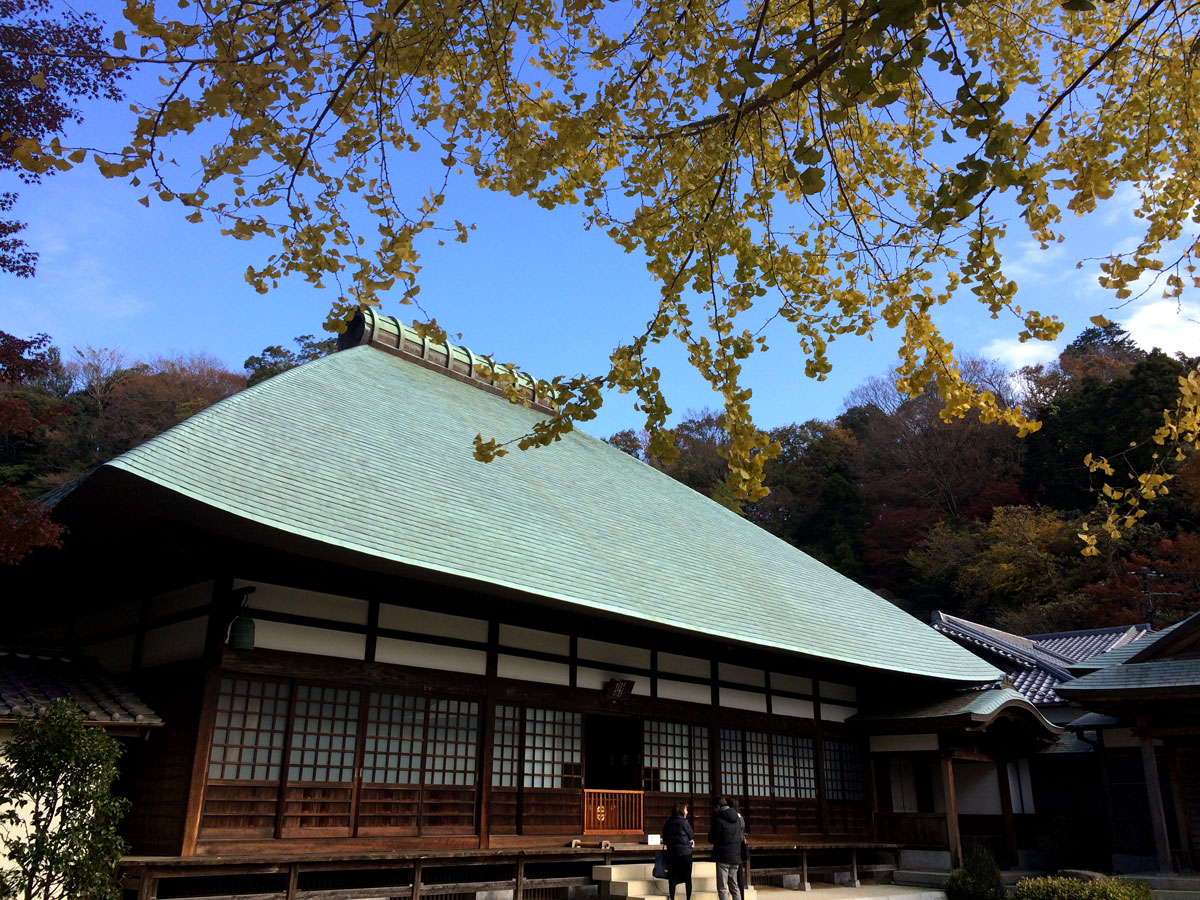 The large bronzed roof of main temple and tall yellow ginkgo tree welcomes you.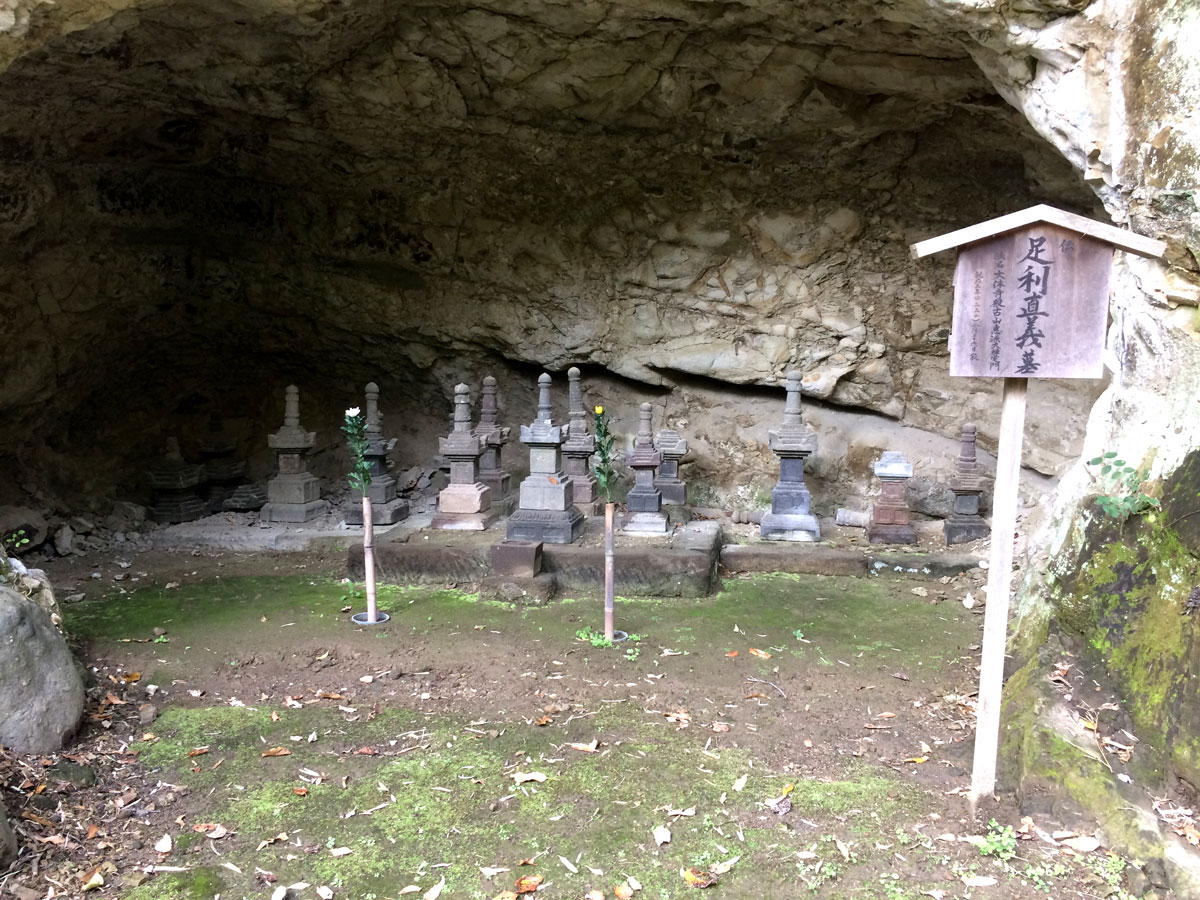 At the end of the property, you find the graves of Ashikaga family. one of the family is Ashikaga Takauji who established Muromachi government in 14th century after the defeat of Kamakura government.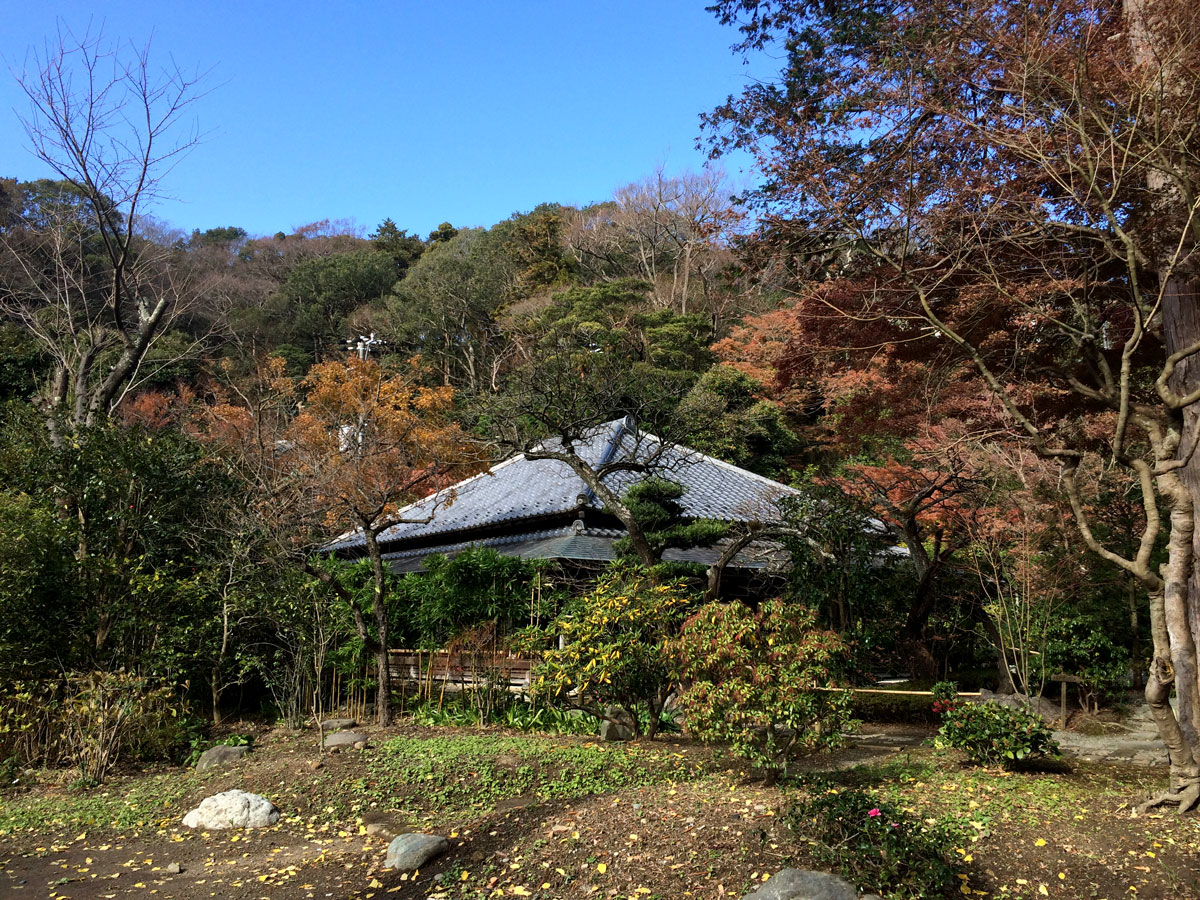 I saw many visitors skipped to visit but the highlight of this temple is the tea ceremony house called Kisen-an which is rebuilt in 1991. In the tea ceremony room, there are sitting area and tables for those who are not comfortable sitting on their heels. To my surprise, the red carpet was warmed up by electricity and I could feel their hospitality.

In the silence, only if there were no chatting women around, you can ease your mind and enjoy watching the sublime dry style zen garden right in front of you. The garden is designed by Sone-Zoen, the Kyoto based Japanese garden-landscaping company.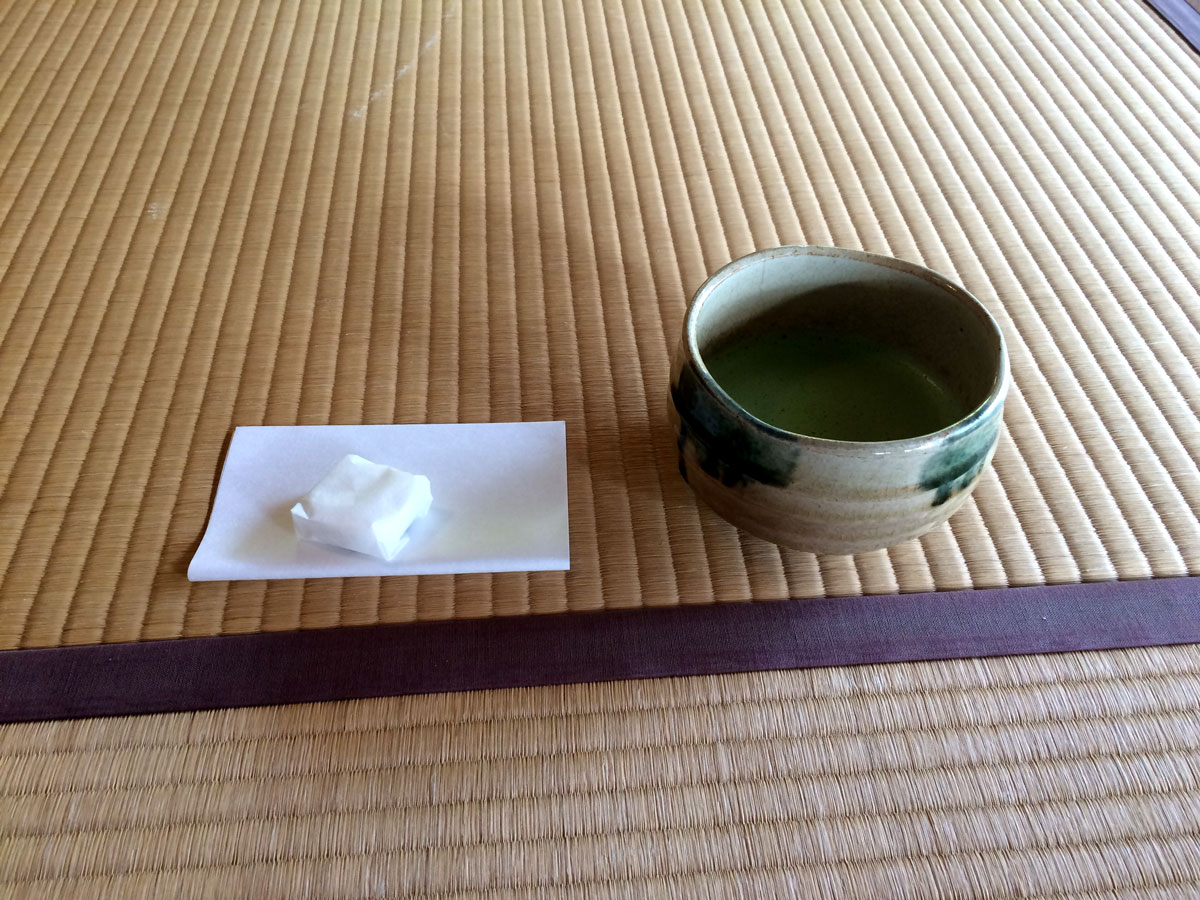 Matcha green tea and a Japanese sweet was so refreshing after short trek.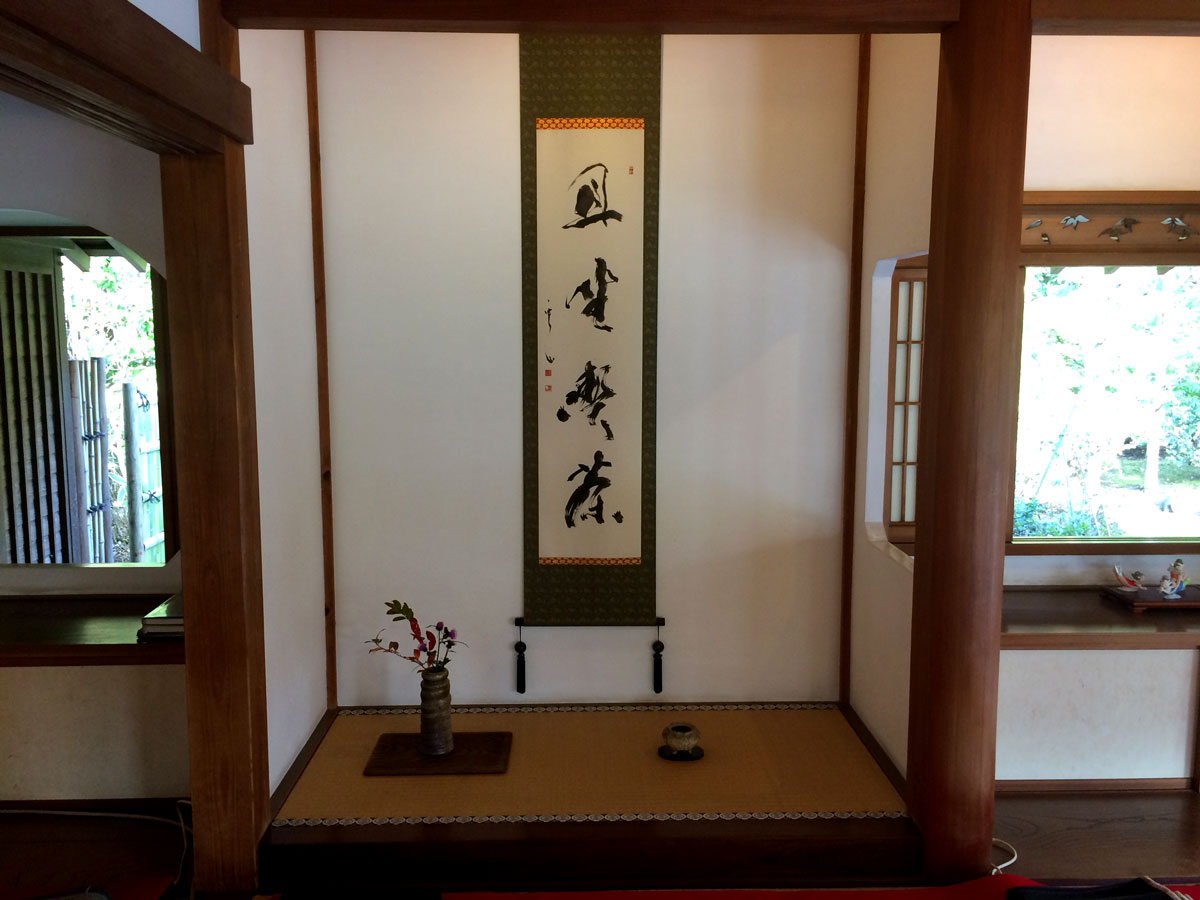 The calligraphy says," let us sit and have a tea break" if translated in a casual way but the phrase  is based on Zen Buddhism on which tea ceremony has developed.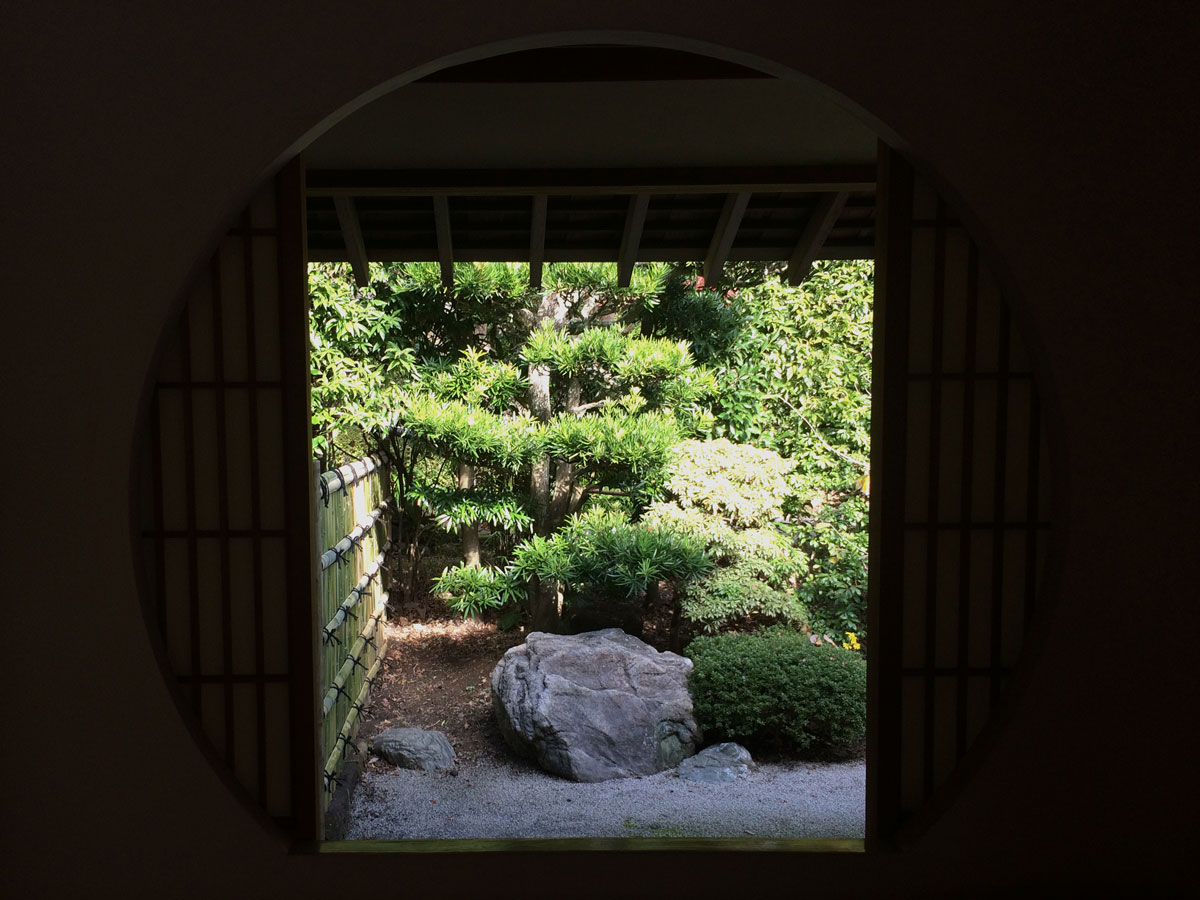 It was my first visit to this temple but it became one of my favorite temples in Kamakura. If I have a chance to show Kamakura around to my friends from overseas, I would like to take them not to touristy places but rather to this temple so that they could enjoy the real atmosphere of Zen garden with green tea. The garden also has interesting sound trick and the sound made by water was so deep that it would take you to another dimension.
Special thanks to a woman serving at the tea house who was kind enough to explain all the info above to me.
Jomyoji temple Information

Address:3-8-31 Jomyoji, Kamakura
Access: Take a bus from the no. 5 bus stop at Kamakura station and get off at Jomyoji.
Tel:0467-22-2818
Entrance fee: ¥100
Visit hours: from 9:00 to 16:30 (Kisen-an from 10:00 to 16:00)